Renewables
Renováveis
Renewables
In our bioenergy parks, we maximize the use of our biomass. In them, we produce renewable energy such as ethanol, second generation ethanol, bioelectricity, biogas and bioproducts. We also invest in solar energy. Together, they represent the energy sources of the future
Ethanol
Sugarcane is one of the most complete raw materials for energy generation, with a conversion rate twice as high as solar energy. For this reason, sugarcane is our main source for ethanol, biomass and sugar production.
Sugarcane-based ethanol produces, on average, 89% less greenhouse gas (GHG) emissions than Brazilian gasoline. Sugarcane is also more versatile, since the same plant can be used to produce different types of ethanol, for different uses, including anhydrous ethanol (used as fuel) and hydrous and neutral ethanol (used in medicine production).
In our bioenergy parks, we produce approximately 2.5 billion liters of ethanol per year (2019-2020 harvest).
Second Generation Ethanol
Thanks to investments in advanced technologies, Raízen is the only company in the world to produce second generation ethanol on acommercial scale, reusing by-products from its production processes.
Second generation ethanol is unique in that it is produced from bagasse from the production of sugar and regular ethanol. The reuse of by-products provides an increase of up to 50% in production without increasing the planted area. Also, this advanced biofuel produces 97% less greenhouse gas emissions than gasoline.
In addition, our second generation ethanol is certified according to the strict sustainability standards of Bonsucro and ISCC.
WHERE DOES OUR ETHANOL GO?
Fuel
In vehicle engines all over Brazil.
Pharmaceutical
As a raw material for the manufacturing of syrups and medicines.
Chemistry
In the production of green plastic and chemicals for cleaning, or paints and varnishes.
Cosmetics
In the manufacturing of makeup, creams, and perfumes, among others.
Beverages
As an ingredient in various alcoholic beverages, thanks to the purity in ethanol refining.
Exportation
In varied businesses all over the world, especially Japan and South Korea.
Biogas
In October 2020, we inaugurated our first biogas plant, where we use by-products from our industrial processes (vinasse and filter cake) to produce biogas.

Biogas can be converted into both electricity and biomethane gas, contributing to a cleaner energy matrix.

This has been our mission from the start: to invest in technologies that can provide us with a more sustainable future. We will continue to invest in this future.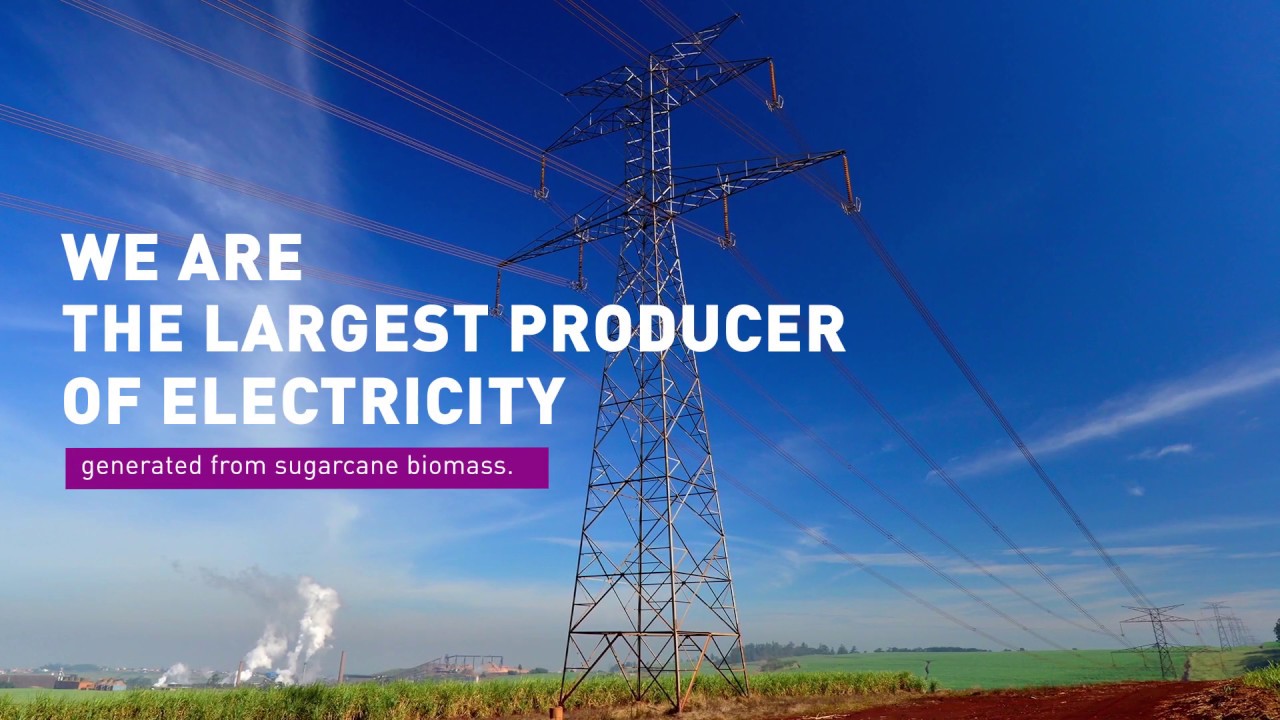 Electricity – Energy Cogeneration
We are the largest producer of energy generated from biomass. This means generating energy from organic materials, which, compared to fossil fuels, produce less greenhouse gas emissions.
In addition, this is a predictable and perennial source of energy, which has its peak production precisely in the driest period of the year, when water resources are under increased pressure.
Energy Trading
We are 100% present in people's lives, through energy solutions that can meet the needs of the entire country.
Distributed Generation is a sustainable and more economical solution for companies.
We trade free energy: we are in the Free Energy Market!
Eletromobilidade
Em junho de 2022 inauguramos o primeiro eletroposto, posto com estação de recarga para veículos elétricos com a solução Shell Recharge em São Paulo. Toda energia utilizada é de origem 100% limpa e renovável, certificada pelo I-REC Standard, sistema global de rastreamento de atributos ambientais de energia. Este é o primeiro de muitos que serão implantados neste ano, ampliando a rede e reforçando nosso objetivo de liderar a transição energética no país com inovação e sustentabilidade.
Com carregadores de 50kW e 150kW, as estações Shell Recharge podem abastecer veículos elétricos em até 35 minutos. Hoje, a Raízen já fornece energia limpa para mais de 500 postos Shell por meio de Geração Distribuída, oferecendo uma solução para redução das emissões de gases de efeito estufa e diminuição de até 20% dos custos de energia.